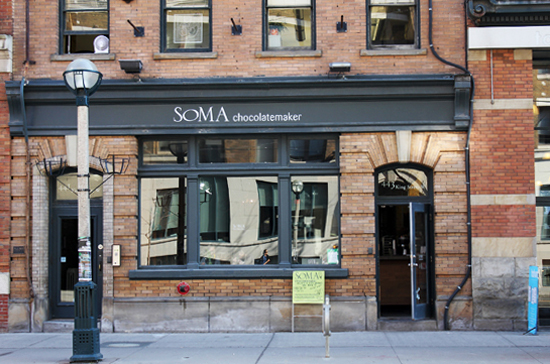 What do a condo developer and a chocolate maker have in common? At first glance, not very much. But on a recent visit to SOMA chocolate at King and Spadina, we discovered that we both share a love and appreciation for King West and its history and heritage.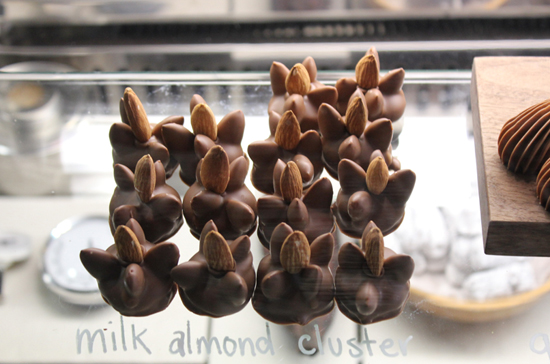 The old manufacturing aesthetic and architecture of King West appealed to SOMA owners and husband and wife duo David Castellan and Cynthia Leung, when they were searching for a location for their second store.  "There's a fascinating history here that rides on the whole manufacturing district in this area. That was important to us. We will never go into a mall and we will never go into a place that was built in the 90's because we feel that history is important" says Cynthia.
They chose to open their second store on King Street because they wanted their store to reflect the heritage of the King West district and its former-warehouse aesthetic. "These are the kind of buildings we look for. The old manufacturing history here really ties in well with what we're doing because we're making small batches of chocolate like they did back in the day."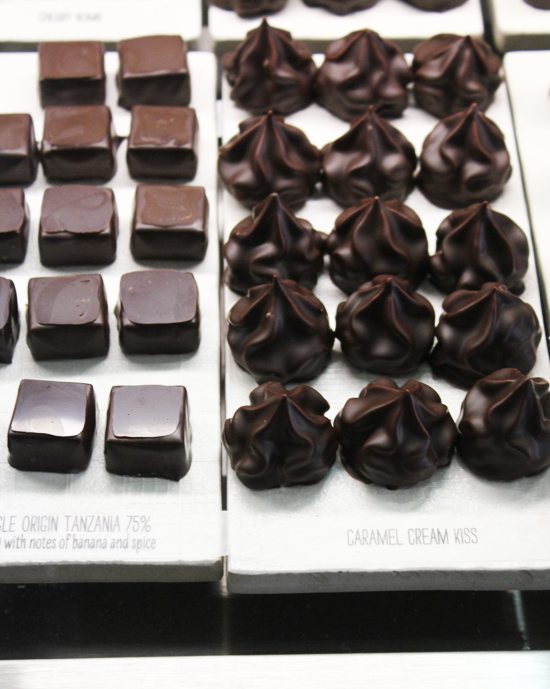 And Cynthia couldn't be any happier with their decision. Since setting up shop at King and Spadina last June, SOMA's second location has quickly established a loyal following. "We really feel like we are part of the heartbeat of Toronto here," she says. "We get a lot of regulars. People work here, people live here, and we get to know their names and their preferences because we see them every day on the streets.  We're part of a community here."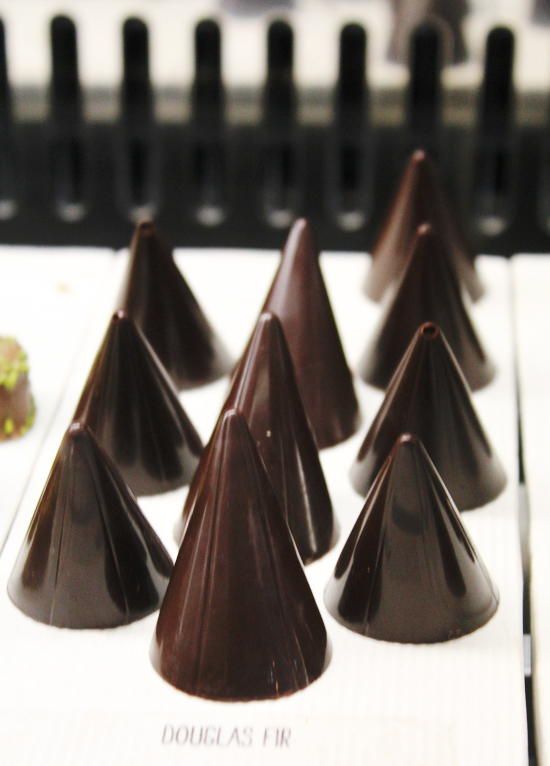 It's not hard to see why SOMA has become the one stop shop for chocolate lovers. Their signature collection consists of an assorted array of mouth-watering truffles that come in about 20 varieties. Customer favourites include the 8 year aged balsamic vinegar truffle from Madagascar, the Costa Rican milk almond cluster and the unique "Sparky" Gianduja which is a European style chocolate made from hazelnut paste laced with poprocks. Another customer favourite is the Mayan hot chocolate which is a unique blend of spices including  chilli pepper, orange peel, ginger, Madagascan vanilla and chocolate all brewed  together to create a smooth, creamy, chocolaty drink with a full rich flavour.
One of the key ingredients to SOMA's success is due to the fact that they approach chocolate making as an art. They make their own chocolates from scratch and they follow the slow food mantra, "clean, fair and good." They are also one of the only chocolate makers in Canada who roast their cocoa beans which are sourced from countries like Venezuela, Madagascar, Tanzania and Santo Domingo.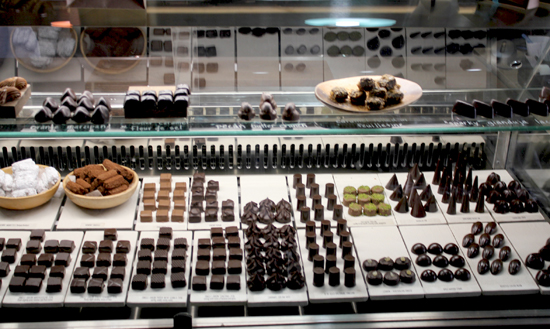 It's this detailed approach to the chocolate making process that keeps Toronto's chocolate fans returning to SOMA in droves for their chocolate fix. And to keep their legions of fans satisfied, SOMA regularly experiments with new ingredients and flavours.  "We're always trying new things and we try to keep the spirit here collaborative. So if someone has an idea, we work together and see where that takes us. We have developed a core collection of products, but we also want to always be thinking; how do we make this better? Or what kind of new flavour profiles would totally blow our minds?"
In spite of their continued success over the past 8 years, they have no plans for further expansion. "People always tell us to open in London or Dubai or someplace else but to us it's not about volume it's about creating a small batch of something fantastic." "Being big is not something we're after. We're not out to conquer the world and we're not out to be Hershey or Cadbury. We're just trying to do our own thing and to do it really well and I think this is the limit that we can do that in."