A recent study from The Toronto Board of Health shows that Torontonians highly value walkable neighbourhoods. The study also suggests that Torontonians strongly desire specific neighbourhood features such as shops and services and a variety of small and medium sized food stores within walking distance of their homes.
All of this is good news for us at Context because we believe that it's important for our projects to have a combination of excellent design and a pleasant environment that incorporates easy access to a variety of places to go and things to do.
That's why we were pleased to find that all of our projects score very highly on walkscore.com, a tool used to calculate the walkability of addresses and neighbourhoods in North America. In particular, Market Wharf has a walk score of 100 out of 100!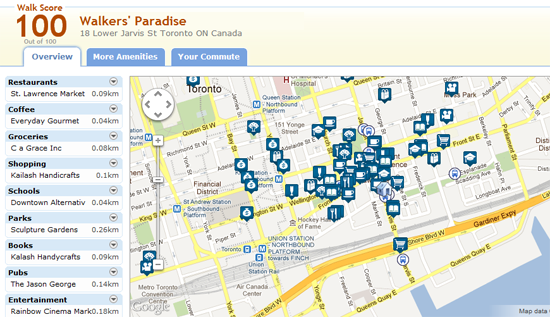 But what exactly is walkability and why is it important? Basically, walkability is a measure of how friendly an area is to walking. The Toronto Board of Health study found that people living in more walkable neighbourhoods in the GTA are more physically active with less chance of developing a chronic disease than those who live in less walkable neighbourhoods. That's because people living in walkable neighbourhoods do more walking, take transit more often, drive less often and less far, and have lower body weights than those who live in less walkable neighbourhoods.
So what makes Market Wharf a walker's paradise? Well for starters, it's close to St. Lawrence Market (0.09km to be exact). There's also the close proximity to parks, schools shopping and restaurants like Paganelli's, Hiro's sushi, Le Papillon and Bier Markt. More importantly, residents who work downtown will be able to walk to the office or will have easy access to transit such as frequent buses, the King streetcar, or the nearby King station on Yonge street.
Our other projects also score highly on the walkability scale. For example, Context King West has a score of 92 thanks to its central location. And at the moment, Library District has a walk score of 88 but with the future addition of the City of Toronto Library and the Mouth of the Creek park, we anticipate the score to jump well into the 90's.
As the demand for more walkable neighbourhoods in Toronto increases, you can definitely expect to see more of our projects in the future continue to score highly on the walkability scale.
To get your walk score, head over to walkscore.com and make sure to share your score with us on Twitter.