Library District is going up pretty quickly. It seems only a few weeks ago we were on the 8th floor, now we're pouring the 11th! Have a look at what's going on around the site this month!
The amenities roof has a bit of a gangsta lean thing going on now. We promise it's supposed to look that way.
You know how good photography is all about capturing the perfect moment? this was one of those moments.
We spent a lot of time  on the upper floors that are getting poured. They're where all the action and great views are.
Workers are pouring the walls that will support the 12th floor currently.
Uh hey guys, can we get a smile or a wave or something?
That's more like it!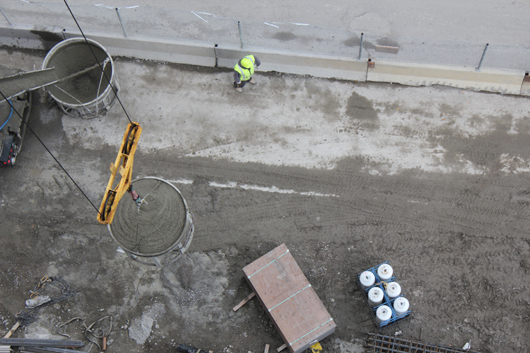 More concrete being lifted up from the ground. Bro do you even lift?
Up it goes…
These are the frames that hold the concrete in place as it dries, so it can then create walls.  Those walls normally support ceilings and floors and that, is how construction works!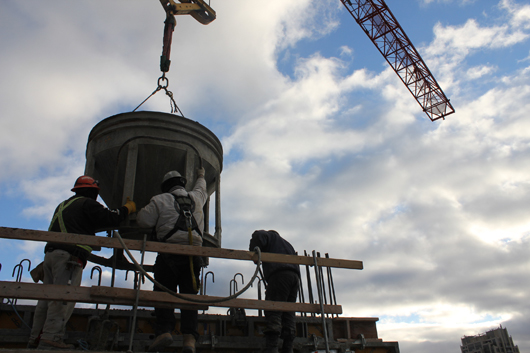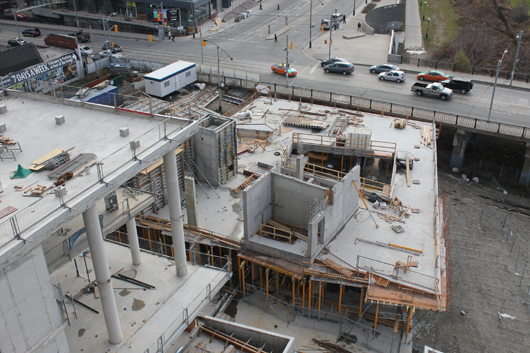 The library is coming along , looks like they are starting work on the second floor at the moment.
looks like the concrete bin needs a fill-up
Oh yeah, We've started installing the glass on the facade of the building. So far the second floor is getting all cladded in gorgeous mosaic glass . This is gonna look pretty awesome when it's all done!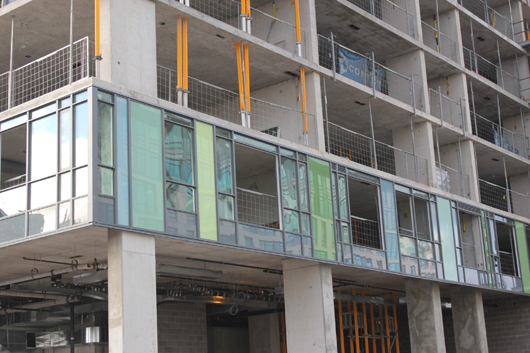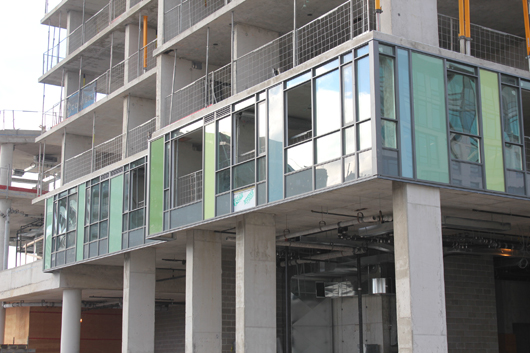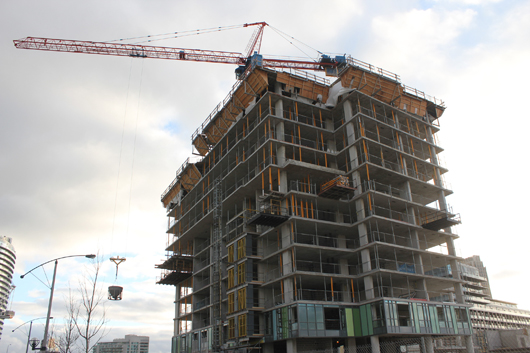 Here we are, 12 floors up and still going strong. So that's it for 2012, we look forward to giving you more updates as this building progresses through 2013. It seemed like only a few months ago we were breaking ground on this building!
Library District is connected to the City of Toronto's 100th public library, and is steps away from the national historic site of Fort York.
To learn more about Fort York, pay a visit!
For more info on Library District- Visit the site! Want to live here? Well we can lend you a little H.E.L.P
Find out what's happening with Context on Twitter and Pinterest