Spring has sprung, and so has Library District! We're 23 floors up at the moment, with the interiors well underway on the lower floors. Follow past the jump for more pics!
We'd just like to say, the green in the facade of the building looks so sharp. Even on slightly gray days such as this one.
Interior shot of the lobby in progress.
The amenities building is getting elevators!
A shot of the view to the north, from the amenities building.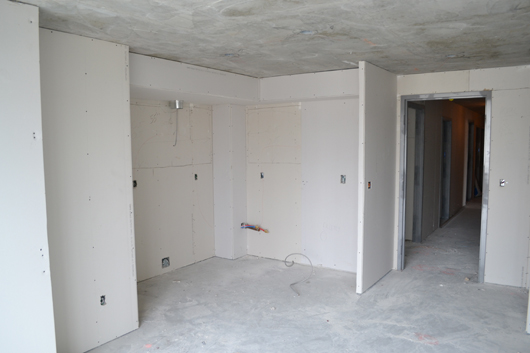 Plastering has taken place on the lower floors, leading for some unites to look just a liiiiiiiitle more finished then the others.
Bathrooms have started to emerge on the lower floors and by emerge, we mean build. They're being built with tools.
So, as the sign says, balcony installation is underway on the west side of the building.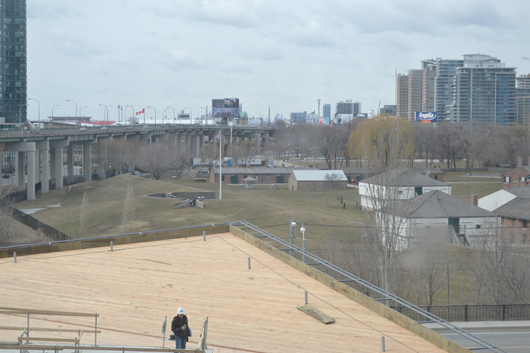 Looks like a fantastic day to visit Fort York!
Taking a bit of a walk up a couple floors, we can see that framing and drywalling is well underway on the 9th and 10th floors.
A view from the 10th floor balcony, the CN tower and Rogers Centre are peeking through the buildings.
the 12th and 13th floors are the last one's with windows at the moment. But we'll see if that's the case later on in a month or so.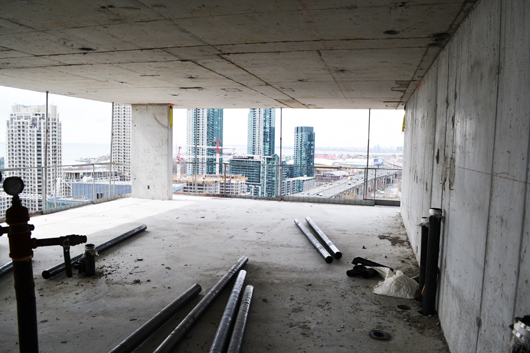 Above the 13th floor, it's got a very "open concept" feel to it right?  🙂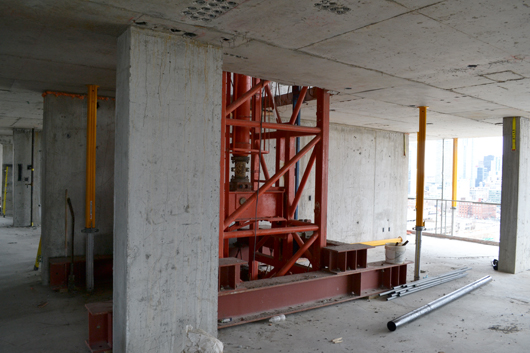 The crane is now located on the 19th floor. The crane is currently busy pouring the 23rd floor. Speaking of which…
Finally, a shot of the 23rd floor as the 24th floor was being poured. To be honest, there were a lot of loud noises so this is as brave as we were willing to get. But you have to admit, it's kind of a fun image, right?
Library District is connected to the City of Toronto's 100th public library, and is steps away from the national historic site of Fort York.
To learn more about Fort York, pay a visit!
For more info on Library District- Visit the site! Want to live here? Well we can lend you a little H.E.L.P
Find out what's happening with Context on Twitter and Pinterest