We recently dedicated the community art collection at The Yorkdale Condominium (the first phase of the redevelopment of the New Lawrence Heights) and wanted to share a great story with you!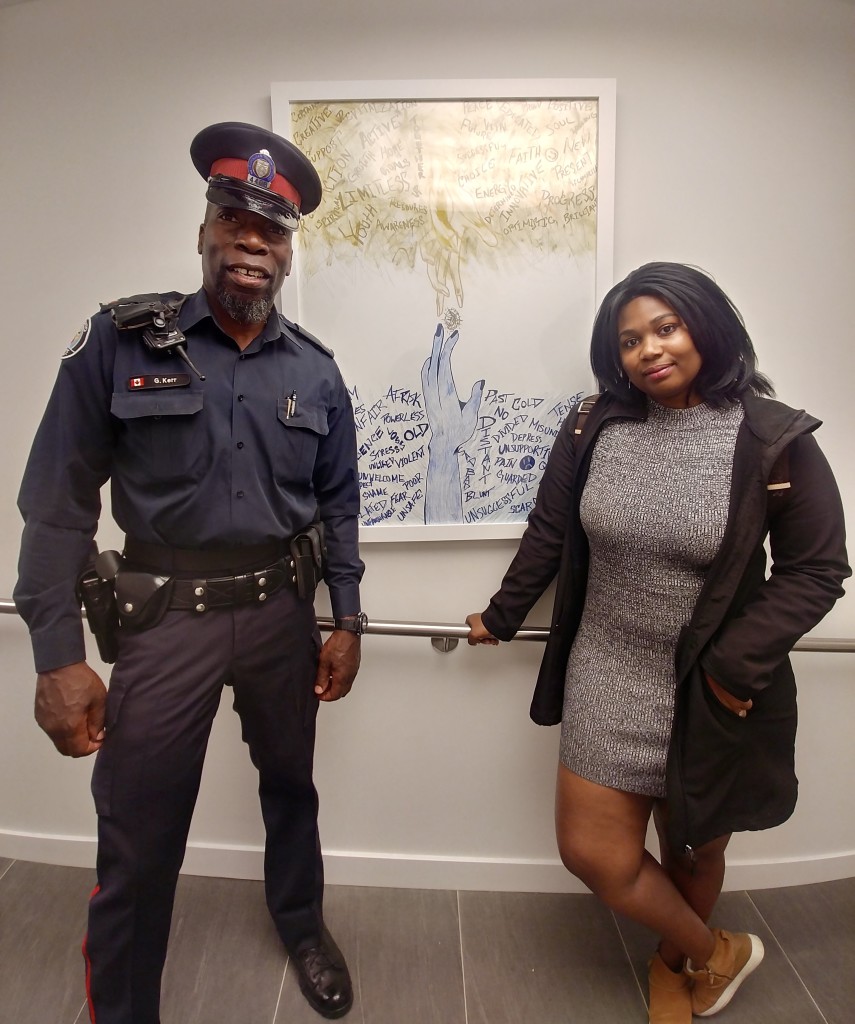 Artists from the community and residents gathered in party room of the The Yorkdale Condominium to celebrate the dedication of the community art collection.  We at Context and Metropia had commissioned a collection of art by artists who live within Lawrence Heights to hang in a gallery space within the condominium.  PC Geoff Kerr of The Toronto Police Service who works in the Lawrence Heights Community was in attendance and admiring one piece in particular.  The work in question was by artist Christina Bonas and it struck a chord with him.  "I looked at the picture and was moved by the words that I saw, it covered the full gamut of human emotions and spoke to human nature – life isn't always perfect. Because I cover mental illness and sing about it in workshops, I saw the connection there and thought the art would be a good accompaniment to all my presentations going forward. They say a picture is worth a thousand words and this picture says it all; people could just look at the artwork and see the correlation in my music."
PC Kerr asked us if it was possible for him to personally purchase the piece that had just been hung in the gallery space of the condominium so we contacted Ms. Bonas and she agreed!  As a result, we have commissioned Ms. Bonas to create another piece which will take the place of the work that will now be hanging in the home of PC Kerr.
In closing, we asked Ms. Bonas what the meaning was behind this work…."As human beings, we are not always willing to be vulnerable. This piece highlights emotions that people feel but hide from others because they think they will be judged. This is especially true when you come from a place where people are typically labelled. The words in blue are how Lawrence Heights was described to me by others when I first moved to the community. People automatically believe the negative things they hear, which is heightened by social media, but once you actually experience Lawrence Heights, you see it's not like that at all. The words in gold are what I actually feel when I think of my community today and I've seen the positive contributions revitalization has had. My hopes are people will hear the good happening in the community and see Lawrence Heights how I see it."
A special thank you to Christine Bonas for her wonderful art and to PC Geoff Kerr for his ongoing commitment to the Lawrence Heights Community!