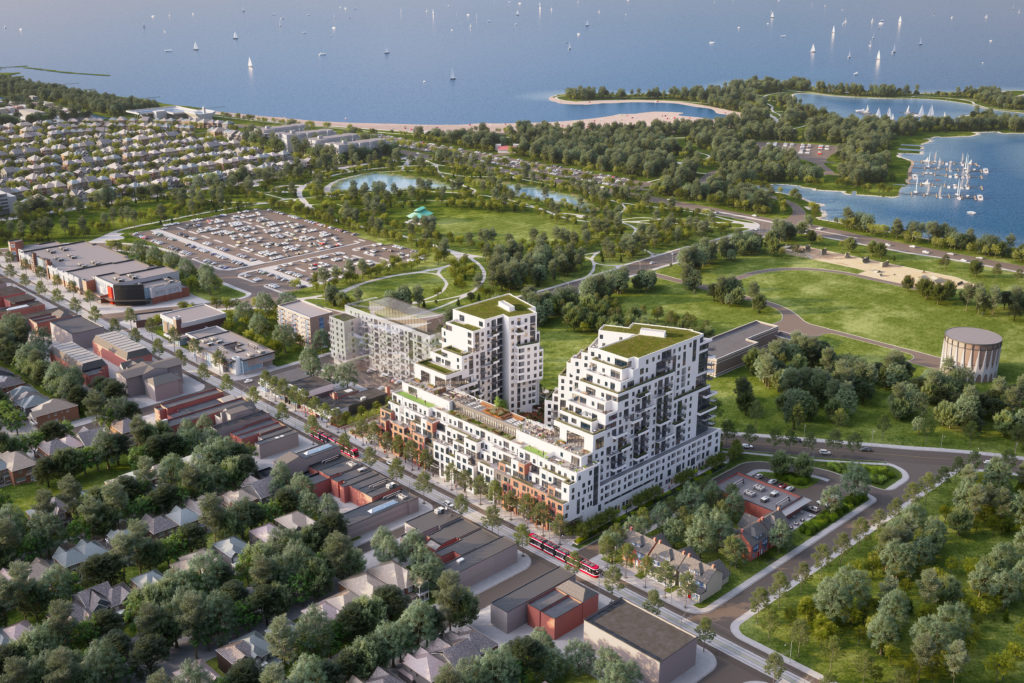 Check out "Big Payday Awaits Investors at Q&A Condos" in the latest edition of Canadian Real Estate Wealth!
Big Payday Awaits Investors at Q&A Condos
By Neil Sharma – December 29, 2020
Queen & Ashbridge Condos has managed to distinguish itself from Toronto's staidly designed condominium stock by harnessing the potential both within and without the building, and attracting robust end user interest in the process.
Located in the Beaches, the building's Queen St. E. frontage offers residents value-boosting streetcar service, hundreds of restaurants, bars and boutique shops along the celebrated street, and the most access to nature anywhere in Toronto.
"The Nos. 1 and 2 amenities are Lake Ontario and the largest expanse of green open space in all of the GTA," Howard Cohen, president of Context Development, Q&A's co-developer, told CREW. "Woodbine Park, Woodbine Beach, Ashbridges Bay and Pump House Park are next to Q&A, so it's really amazing the amount of green open space we have there, and we're immediately north of Ashbridges Bay Yacht Club."
The Beaches has been one of Toronto's most desirable neighbourhoods for the aforesaid reasons long before citywide housing prices began surging a few years ago, and it could also explain why, unlike most Toronto condos that are investor-driven, the overwhelming majority of Q&A's buyers so far are end users, some of whom have already purchased the more expensive units over $2 million. It's perhaps for that reason investors would benefit from owning a unit or two at Q&A—Toronto rents haven't carried condos for a few years, but capital appreciation potential is through the roof—because when the units enter the resale market, end users will pay a premium that other investors won't.
"It's unusual for end users to buy preconstruction because they have to wait about four years to move in, but that Q&A is getting huge interest from end users tells an investor something powerful," said Cohen. "When they put a downtown unit on the resale market, they get a huge amount of competition, because probably 95% of downtown towers are bought by investors, so everyone living in it is a tenant. Our building will probably be half and half, and with more end users there's more value, especially on the resale market, because an investor likely won't sell a Q&A unit to another investor, they will sell it to an end user, and end user-driven buildings are taken care of better. You see that with downtown condo boards that only want to keep the fees down as opposed to maintaining the building."
Dil Bhanga, a broker with Royal LePage Flower City Realty, says buildings with high end user contingents last much longer than investor-driven buildings, which run the risk of falling into disrepair faster than they should.
"End users take care of the condo more than investors, who just want rent and low overhead," he said. "End users always monitor the condo corporation and status certificate to make that anything to do with maintenance is taken care of."
Cohen added that, unlike the downtown towers every real estate broker in Toronto brings their investor clients to, clued in brokers have been bringing their clients to Q&A, which is being co-developed by RioCan Living, since it launched a couple of months ago.
"Housing prices in the Beaches are through the roof. We're finding it's the brokers who know this part of Toronto, as opposed to the cookie cutters downtown, who are bringing us the most buyers as investors."
The 17-storey, 360-unit U-shaped development, which incorporates geothermal energy to keep utility costs low, will feature a 5,000 sq ft state-of-the-art fitness centre equipped with a yoga studio, spa and steam saunas, co-working space for residents, a rooftop party room and lounge with a capacious outdoor terrace that has cooking and dining areas, and a courtyard for residents.
"There's also a dog run and a dog washing station, and we've been getting a really good response to that," said Cohen. "Our architect [Teeple Architects] came up with a building configuration that looks a little like a pyramid in its genesis, and on the skyline it's going to be pretty exciting. Because of the way the building is shaped and modelled, it's created a really beautiful courtyard that's a private park for people who live in the building, which some of the units overlook, and which we think of as an urban forest."
https://www.canadianrealestatemagazine.ca/news/big-payday-awaits-investors-at-qanda-condos-334408.aspx