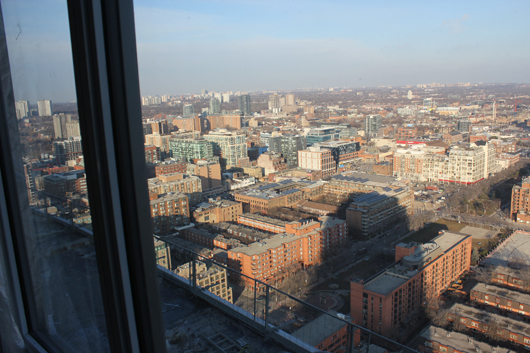 Psst. We're about to give you some juicy info about 2 penthouses that are being completely customized for Market Wharf.
Are you ready? Follow the jump for 5 cool facts about our new penthouses!

These penthouses are BIG. One of the penthouses is 1523 sq. ft. and the other is 1959 sq. ft. Both have two bedrooms, a den and two bathrooms. So much room for activities!
The best feature is the size. Well, would you complain with the volume of space; high ceilings (10 feet) throughout,  east-facing lake views, and huge balconies that run the entire length of the suites? No? We didn't think so.
The decorating theme? Pure F#$@ing  class. Each penthouse is unique but the style for both is what we like to call modern elegance. After all, Context is a modern builder and you can see that Market Wharf reflects modern architectural design – the decorating theme fits the bill. It has the best of both worlds: modernity and warm; custom wood millwork, hand scraped wood floors and then natural stone foyers, kitchens and baths.
You want more details? Fine. Our suites rock. Both suites feature upgraded kitchens with pantries and Sub-Zero integrated fridges, Miele integrated dishwashers and Wolf ranges. The main bath features floor to ceiling glass wall tiles, and the ensuites feature custom car marble on all walls. Double vanities, Jacuzzi tubs and separate large walk-in showers … need we say more?
We want you. No really, we expect the penthouse is perfect for downtown professionals and empty-nesters who are selling their home.
We're excited. And we're going to share pictures with you as the construction progresses. Stay tuned! In the market for a swanky pad? Leave a comment below or join the conversation on Twitter!