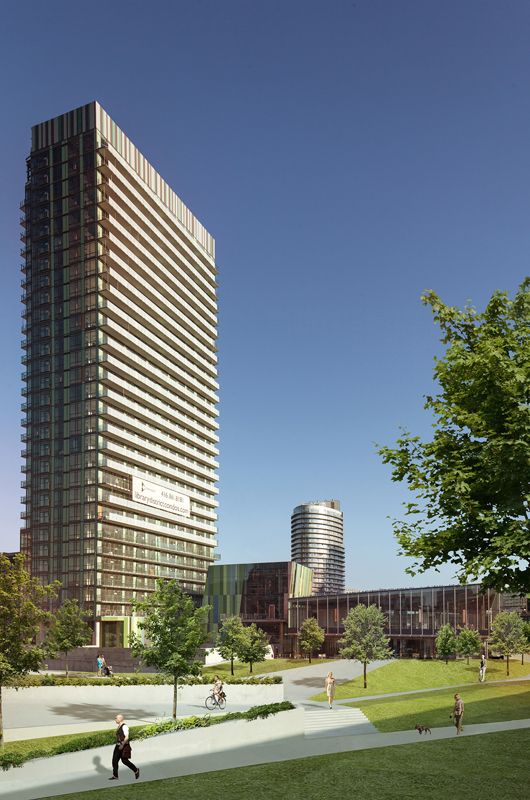 It's always bittersweet to announce when a project is completely sold out, but here we are once again … Yes, ladies and gentlemen, Library District is SOLD OUT!If you're a buyer at Library District, congrats! You have one beautiful place to call home in a great location with awesome amenities nearby. If you're not a buyer at Library District, well too bad so sad. What's that? We have another, equally awesome building on the way?  Oh right, guess you're not out of luck then.
Anyway let's say farewell in style – with a quick trip down memory lane:
Remember when we shared our very first construction update of Library District back in May 2012?
Since Library District neighbours Fort York, we've also taught you plenty about Toronto's favourite historical site (you're welcome).

We also hosted a great construction commencement event at Fort York because we love it so much.
Over time, Library District started to grow into the great building it was destined to become.
Oh, and let's not forget how awesome it is that it's literally right next to a Toronto Public Library. #Swag
And when we announced that they finally named the big green public space next to the condos – Mouth of the Creek Park!

Then one day the construction team just finished their work and Library District stood tall and proud. (We may or may not be crying right now – happy tears)
Sayonara Library District, catch ya on the flip side. Or tomorrow when we come to get more books at the Fort York Public Library…
PS: Don't worry – we've got The Yorkdale – our project next to the Yorkdale Shopping Centre. Be sure to follow us on Twitter so you know what's shakin'.